You're invited to eros studies, an intimate gathering: part educational series, part munch*, part oral history but mainly a series of mostly horizontal conversations that invite collective exploration into the realms of ecology, sexuality, kink, and BDSM organized by Cy X.

The first iteration of eros studies goes deep into the chaos, intrigue, and possibilities of the glory hole. I invited friend and artist Ize Commers who shared about their research and process for creating "Hand Hole."

Perverted Education
Writing + Design Theory + Somatic Exploration
Website
/
Event Link
Excerpt from Cy X's Unfinished Glory Hole Writing (2023):

The glory hole appeared to me as a teen and shifted my entire worldview. I had never seen a glory hole myself nor had I heard anyone discuss them. It never came up in sex ed either. It only existed on the Internet, I thought, and by extension in the lives of adults who had the freedom to fuck and play with whoever they wanted whenever they wanted.
It became my personal symbol for freedom.
It became my: I will know I am free when I see glory holes all around me.
I so badly wanted to be an adult. I so badly wanted to be free.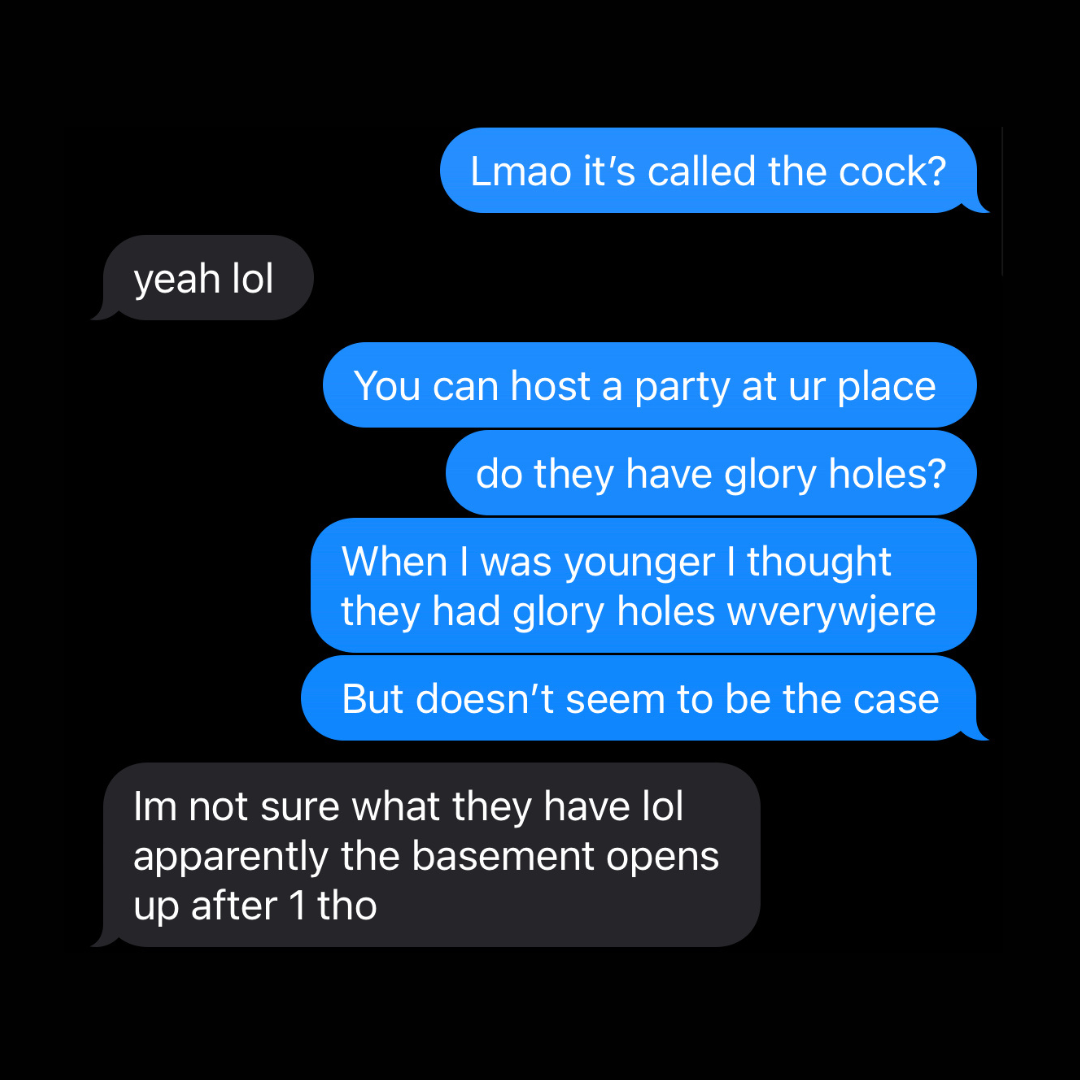 The glory hole led me to the bathrom, the contested space, the debated space, the policed space.
But even before we arrive at this specific hole, in the bathroom, we must ask:
Who has access to this bathroom? Is it in a public restroom or did you have to pay to access it? Is the bathroom in your workplace or your home? Is it in a gendered bathroom? Do you feel safe in that bathroom? Is the stall wheelchair accessible?
the contemporary toilet is a place where gender variance and homosexuality are linked to dirt, disease, and public danger.
-
Queering Bathroom: gender, sexuality, and the hygienic imagination by Sheila L. Cavanagh
Screen Captures from "Hand Hole," Courtesy of Ize Commers
"Hand Hole" Description


"Hand Hole" was installed at Hex House's Birthday Party in the formerly wood shop transformed into chill hangout spot. Back amongst the edges of the fabric, lived the most glorious handhole. The handhole is a constructed box with two imperfect circles on both ends of the box. This is where the hands go in. One of the sides of the box is removed. This is where Ize sat with their handheld camera, documenting the sacred perversions of curious handholders.

Inside the constructed box was a rock covered in vaseline, an aloe plant, pink flowers, and other things. The inside was also partially covered in mylar.

"Hand hole" sat on a table and there were two chairs at each end of the holes. Most attendees sat at the table and placed their arm into the holes, exploring the surprise objects inside and the hand of their partners. Most people seemed to know each other or intentionally came to the "hand hole" together. The footage was edited into a 35:08 video that was displayed on screen and on loop for eros studies.

Ize Commers Biography: Ize is an image-maker interested in shadow-experiencing and memory construction as acts of care and survival strategy. Their process prioritizes somatic presence and togetherness, looking alongside human and other-than-human kin in the creation of elsewhere.